Information Nozzles
Detail information about Monarch Nozzles

Oil burner nozzles

Monarch Nozzle General Information

Monarch Nozzle Spray Patterns

Monarch Nozzle Technical Data

Monarch Nozzle Spray Angles and Capacities

Monarch Nozzle Critical Points

Monarch Industrial Nozzles

MTD-92 High-Precision Monarch Nozzle

HO Monarch Nozzle

BPS By-Passing Monarch Nozzle

Industrial Oil Nozzles (D-41, D-41-HO)

Variable Flow Nozzles (E-180-H)

Air Operated Industrial Oil Burning Nozzles (C-169-WA and C-170-WA)

Nozzle Service and Storage Accessories

Air Operated Industrial Burner Nozzles (C-202 and C-206)

Spray Nozzles, Water Nozzles for Industrial and Agricultural Applications
Monarch Nozzle Adaptors

Monarch Nozzles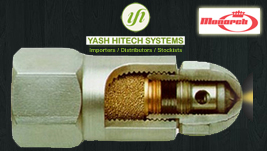 Spray patterns - Monarch Nozzles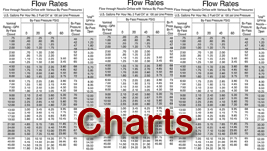 Monarch Nozzle General Information
Industrial and Residential Oil Nozzles, Oil Burner Nozzles, Spray Nozzles, Water Nozzles, Burner Spares and Burner Nozzle in India
Maximum flow tolerance: Nominal +/- 4% (CEN European Standards)

The Results of Long Research and Development Work.
It is now possible to manufacture "hand- and custom-made" nozzles in very small series. However, quite a different requirement is needed, of course, when it comes to a mass production of millions of nozzles a year to meet the needs of the market. This exponentially increases the problem of consistency, high performance, uniformity and quality.

To move from a "laboratory development" to a quantity production stage involves, beside the mastering of all construction parameters, an adaptation to the constantly evolving manufacturing and combustion techniques which remain the basis of our profession. A perfect control of this continuing evolution is responsible for the reputation of MONARCH nozzles, worldwide.

Thus, MONARCH has become the engineers preferred nozzle around the world. This success has made it our duty not only to comply with the requirements set up by the leading burner manufacturers, but also to take into account the needs of servicemen to make sure, nozzle by nozzle, box by box, that no problems arise that would necessitate a call back, which is always very costly for the service company.

The MTD-92 nozzle was created to give a maximum satisfaction to all users. To achieve this, not only is the MTD-92 nozzle manufactured with the greatest care, but every nozzle is individually spray tested to guarantee perfect conformity and-control of the flow rate, spray angle, uniformity and consistency.
The Extension of Unexceptional Venture

Once again, we confirm our commitment to manufacture high-precision nozzles only, in conformity with the highest possible manufacturing, testing and reliability criteria of the moment. Therefore, using a MONARCH nozzle guarantees for you and for your customer the best end longest-lasting performance level and efficiency.



This guarantee remains our constant concern, as well as our greatest pride. The MTD-92 nozzle combines the qualities which have made MONARCH's name famous, with both advanced technology and strictly controlled precision corresponding to the trends and requirements of the market.

As a result, we have been able to meet the demand for high performance, due mainly to our -long-standing experience and skill, and to an ever-developing technological base that has created MONARCH's worldwide reputation as the leading manufacturer of nozzles for domestic oil burners.

Monarch Nozzle Spray Patterns
Monarch Nozzle "R" spray patterns , Monarch Nozzle "NS" spray patterns , Monarch Nozzle "AR" spray patterns, Monarch Nozzle "PLP" spray patterns, Monarch Nozzle "PL" spray patterns, Monarch Nozzle "HV" spray patterns, Monarch Nozzle "HO" spray patterns Read More

Monarch Nozzle Technical Data
The tolerances for the dimensions above hold for all nozzles up to and including 3.50 USGPH. They can be slightly different for higher capacities.

The body and swirl disc are made of a high chrome grade stainless steel (416 SS), specially selected for its high heat resistance.

The locknut is nickel plated to avoid all risk of even a partial obstruction by metal particles.

The nozzle body and orifice are made of a one piece construction. Although expensive, this procedure guarantees against possible leakage or heat expansion related problems.
MONARCH has recently developed a Computer Laser System to monitor quality and homogeneity of spray patterns and angles. This laser controlled measuring device is computer-guided to provide high precision monitoring of nozzle tests. When tested, the nozzle is analyzed by the Laser System; the results are simultaneously computer-processed and compared with Master Reference Nozzles. This method enables MONARCH to assure uniformity and consistency of nozzle production as compared to the reference samples.

ATTENTION: Considering the high precision level, demonstrated by flow tolerances, and the extremely high precaution measures in manufacturing, we strongly advise you not to disassemble the MTD-92 nozzle; the original precision will not be recovered. The problem posed is that of a maximum filtration guarantee. This is why MONARCH has chosen to use porous bronze filters with a straining capacity of 40 to 60 microns or 200 mesh (approx. 70 microns) strainers, for capacities up to and including 1.00 USGPH.

Monarch Nozzle Critical Points
The nozzle tip (7) and swirl disc (2) are made of a high chrome grade stainless steel to guarantee high heat resistance. The internal parts are protected by a high-efficiency filter (4).

The disc: the size of the slots (1 ) regulates fuel flow rate and path.

The swirl chamber (6) determines spray velocity. All parts are closely fitted owing to precise production and micro tolerances.

The internal locknut (3) is nickel plated and has a hexagonal center hole to prevent all danger of choking by metal particles from a jammed part.

Perfect expertise and precision are necessary to manufacture the tangential slots (1) and orifice, acquired through long years of study and research focusing on the very conception of the nozzle and the use of modern tool and production technology.

The extremely close manufacturing tolerances (in microns) as well as the super finish of the surface between the nozzle tip (7) and the disc (2) secure a perfect flow of the fluid through the disc's orifices and determine the flow rate and spray angle.

The body or adapter (8) fastens the nozzle into the fuel line.

HO Monarch Nozzle
The HO series is offered to meet the requirement for Nozzles to be used on higher viscosity oils at elevated operating pressures. It is a redesignation of the PLP-HO, PL-HO and R-HO series to simplify specifications for ordering. These Nozzles (as with all Monarch Nozzles) are stamped with their nominal flow rate at 100 PSIG on No. 2 fuel oil and are available in capacity sizes from 1.00 through 100.0 GPH.

200 PSI: When regular light oil Nozzles are used on more viscous oil, their sprays tend to "flutter", they produce a narrower spray angle and often develop streaks in the spray. Accordingly, the standard "HO" Nozzles are specially tested for spray quality and rated for spray angle at a pressure of 200 PSIG (14 bars) on 70 SSU (13 Centistoke) operating viscosity oil. This special testing assures that the Nozzles will perform properly under heavy oil operating conditions.

430 PSI: For very high pressure operation, the HO Nozzles are also tested for spray angle and spray quality at 430 PSIG (30 bars) on 70 SSU operating viscosity oil. The special additional testing is necessary to be sure that no streaks, voids, or flutter appear in the spray at these pressures that would not appear at 200 PSIG.

HO Nozzles : The accompanying chart shows approximate flow rates when operating from 200 PSIG through 450 PSIG on 70 SSU operating viscosity oil, specific gravity .846. Note that the nominal flow rates stamped on the Nozzles are based on 100 PSIG using U.S. No. 2 fuel oil, subject to a flow tolerance of plus or minus 5%. Flow rates shown at 300 PSIG on 70 SSU operating viscosity oil are from actual tests. Flow rates at higher and lower pressures are rates predicted from the 300 PSIG data. Actual flow rates may vary, depending on exact operating conditions.

Nozzles for operation at 200 PSIG are available in 45°, 60° and 80° spray angles in sizes of 2.25 GPH up to and including 45.00 GPH, and sizes of 50.00 GPH and up are available only in 60° and 80°. Nozzles for operation at 430 PSIG are available in 45°, 60° and 80° in sizes 1.00 GPH up to and including 45.00 GPH. Sizes of 50.00 GPH and up are available only in 80°. Strainers are not included with Nozzles but 120 mesh Monel Strainers may be ordered separately. Strainers are specifically not recommended for use on sizes over 50.00 GPH, as restriction may occur.

Ordering: Specify flow rate, spray angle, Series (HO) and quantity desired. If adaptors or 120 mesh strainers are desired they must be ordered separately. Specifications: Tip, disc and locknut fabricated of high chrome, heat resisting stainless steel. HO Monarch Nozzles Chart

BPS By-Passing Monarch Nozzle
The BPS nozzles produce variable orifice flow rates by by-passing fluid from the nozzle swirl chamber. The orifice flow is regulated by controlling the by-pass line pressure.


The nozzle tip and disc are made of the same heat resisting, high chrome grade of stainless steel used in our simplex or regular domestic oil burner nozzles. The combination locknut-strainer support is made of brass with a Monel strainer screen and a Teflon seal (Viton "O" rings are special order). Nozzle adaptors (bodies) and fittings are made of brass. Nozzles in all sizes are furnished only with strainers, 120 mesh Monel up to and including 13.50 GPH and 80 mesh on larger sizes.

The BPS nozzles are designed and tested for operation at 100 psi. on No. 2 fuel oil, with the capacity and spray angle stamped on the nozzles at these conditions. Both the capacity and spray angle rating are based on having the by-pass line closed. Spray angle widens 5°-10° with the by-pass line open.

The chart shows the orifice flow rates at specific by-pass line pressures and also the maximum pressure in the by-pass line when the by-pass is closed.

The BPS nozzles can be supplied with spray angles as follows: 30° in capacities from 3.00 GPH up to and including 30.00 GPH; 45° in capacities from .75 GPH up to and including 35.00 GPH; 60° in all listed capacities, 80° in capacities from 1.50 GPH up to and including 35.00 GPH, and 90° from 10.50 GPH up to and including 24.00 GPH.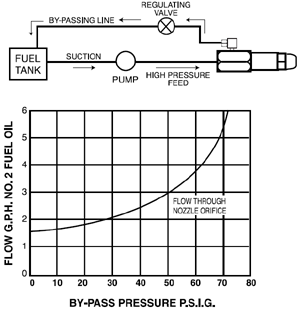 It is possible to operate standard BPS nozzles up to 250 psi. line pressure, and at this pressure they will handle up to 70 S.S.U. operating viscosity oil. The BPS nozzles can be specially tested for operation at line pressure of 300 psi. or more at additional cost.


BY-PASS PRESSURES VS. ORIFICE FLOWS. Shown is a pressureflow chart for the 6.00 GPH BPS nozzle operating at 100 psi. oil line pressure on No. 2 fuel oil. The total flow through the nozzle orifice and the by-pass line when the by-pass is completely open is considerably more than the rated capacity of the nozzle, per last column of chart above. For capacity sizes larger than those indicated as available, we refer you to the E-180-H and E-179-H variable flow nozzles. click here

BY-PASSING NOZZLE ADAPTORS. The H-730-C by-passing nozzle adaptors are 2-1/16″ long, made of 3/4″ hexagon brass and are furnished with either 1/8″ or 1/4″ female N.P.T. oil inlet connections. They are equipped with a brass fitting on the side to accommodate 1/4″ O.D. tubing for the by-pass line, and the distance between centers of the feed line and the by-pass line is 11/16″. A duel by-passing adapter, H-711, is also available to take two (2) BPS nozzles. Due to the necessity of combining inlet and by-passing flows of the two nozzles, the single inlet of the H-711 is 1/8″ female N.P.T. located on the side of the adapter and the single by-pass is 1/4″ female N.P.T. located at the rear of the adapter. The H-711 is made form 3/4″ x 1-3/4″ rectangular brass stock and is 2-1/8″ long. BPS By-Passing Monarch Nozzles Chart

Monarch Nozzle | Service and Storage Accessories in Mumbai
All types of Nozzles are available in Mumbai (India) | We are leading importers, distributors and stockists of Monarch Nozzle in India since 1996 - 97 (Yash Hitech Systems)
Office Address

YASH HITECH SYSTEMS
Gala no: U - 50 / U - 150,
Ground / First floor, Jai Matadi Compound,
Opp Rajlakshmi Complex,
Near Paliwal Milk co,
Thane - Bhiwandi Road,
Kalher, Bhiwandi - 421302,
Thane, Maharashtra.

Tel: 02522 - 326019, 662064, 326569

Mobile : 9820524582 | 9820344636

9323220221 | 9322310718

Email: yashhitech99@gmail.com

Fax No : 02522 - 662047

Bank Details

BANK OF BARODA

A/C Name: Yash Hitech Systems

Current Account No :

04270200000739

Branch: Majiwade, Thane Branch

RTGS / IFSC CODE : BARB0MAJIWA

( PLS NOTE MIDDLE IS DIGIT ZERO AND NOT 'O' )

MICR CODE : 400012077
www.Monarchnozzlesindia.com | | +91 9820524582 | +91 9820344636 | +91 9323220221 | +91 9322310718 | Yash Hitech Systems
Oil Burner Nozzles | Monarch Nozzles Collection : AR Special Solid MTD Oil Burner Nozzle (box of 12), BPS By-Passing Nozzles, C-169-WA Nozzle, C-202 Air Operated Nozzle, C-206 Air Operated Nozzle, CC Conctant Capacity MTD Oil Burner Nozzle (box of 12), D-41 Industrial Oil Nozzle, D-41-HO Industrial Oil Nozzle, E179-H / E-180-H Variable Flow Nozzles, F-94 High Velocity Spinning Nozzle (box of 12), HO Heavy Oil MTD Oil Burner Nozzle (box of 12), HV High Velocity MTD Oil Burner Nozzle (box of 12), NS Hollow MTD Oil Burner Nozzle (box of 12), PL Hollow MTD Oil Burner Nozzle (box of 12), PLP Semi Solid MTD Oil Burner Nozzle (box of 12), R Solid MTD Oil Burner Nozzle (box of 12), Industrial Nozzles and oil Nozzles.

Our Partners and associates website links :